professionalism
- Consciousness of the person providing the service (other than myself, the customer)
- Professional spirit: No. 1 spirit. / Reward for fair work.
- The idea of representing a job
- Personalization of kindness (bright facial expression, smile and cheerful voice)
- The workplace is where you try to grow up and achieve economic and spiritual independence (becoming an expert)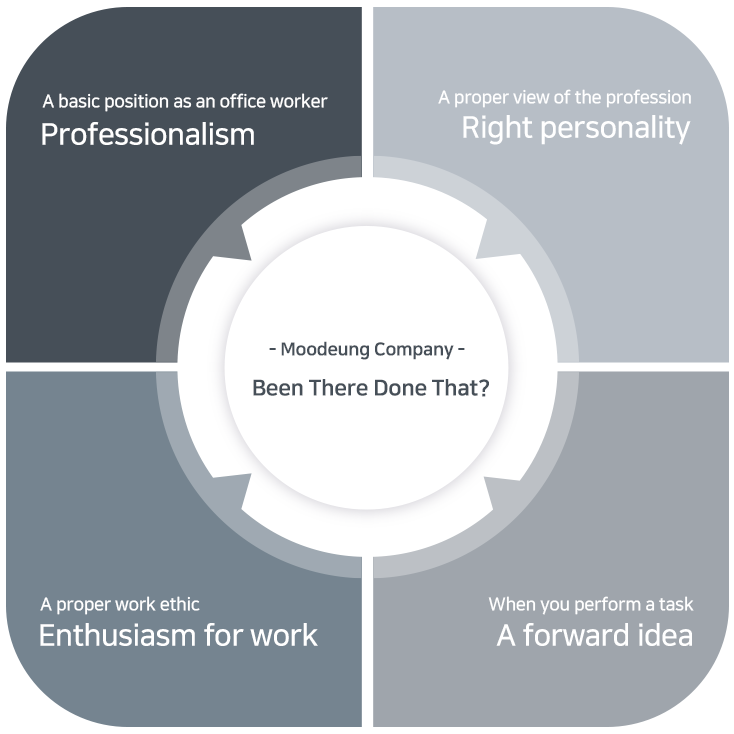 Good quality
- Vocational awareness : Solving economic problems and self-real
- Nomenclature : Calling (Job, Profession, Vocation, Occupation)
enthusiasm for work
- Second home : A painting of self-realization, the home of life
- My development is job development and job development is my development (lost job)
- A workplace is a place to maintain and develop mutual relationships through work
- Learning about the sense of community through cooperation and formation of relationships between superiors, seniors and colleagues
progressive thinking
- Quality consciousness : misinterpreted on documents, missing report, random change of appointment, etc.
- Cost awareness : recognition of the purpose of an enterprise (profit practice, social contribution, sustained growth)
- Time-conscious : A plan without a schedule is not a plan, and an unplanned plan is a plan for failure.
- Improving : Problem consciousness (what is the problem in the company?) and why?
- Consciousness : Consciousness, enthusiasm and compassion
- Management Awareness : Perform PDCA Cycles, check the planned work (scheduled), and check the work performed (results)